There are 18 parody covers of this album on this page.
Elvis Presley Album Cover Parodies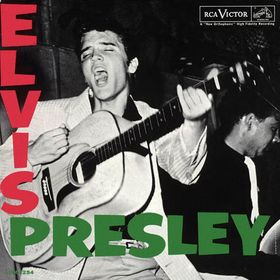 Elvis Presley
The original...
The Bad Examples

"Smash Record"

The smashed and then manipulated 78 on the cover is an actual copy of Hound Dog that I already owned in that condition. The dog on the label is a modification of a Cherise Mericle drawing done for the band's 1991 album, Bad Is Beautiful. While the front cover just has the band name, the spine lists it as Ralph Covert & The Bad Examples to reflect his solo albums and his renown as Ralph's World. This all-new studio album from the Chicago rock band was released on 2011 on Waterdog Records. - Submitted by: Rob Gillis

Bob Dylan

"IN CONCERT:BRANDEIS UNIVER"

- Submitted by: Corky Carrel

The Clash

"London Calling"

Cyrus Chestnut

"Cyrus Plays Elvis"

Donovan

"Summer Day Reflection Songs: Anthology"

- Submitted by: Corky Carrel

Dr. Dog

"Wild Race"

Released 04/2013. - Submitted by: nrith

Egotronic

"Egotronic"

german electro-punks, album released in 2008. - Submitted by: Sam

The Emeralds

"Love Is Rolling"

Band from Yokohama, Japan sharing their appreciation for rock'n'roll. - Submitted by: John Book

k.d. lang

"Reintarnation"

Marco Bailey

"Rudeboy"

Monkeys of Syion

"Superficial Lover"

Independent group from Mountain Ash, Wales, UK - Submitted by: sustiputo

Pronghorn

"Londis Calling"

Rick Broussard

"Rick Broussard's Two Hoots And A Holler"

The music here is pretty close in spirit to both Elvis and The Clash. - Submitted by: Corky Carrel

Tim Buckley

"Dream Letter (Double CD)"

- Submitted by: Corky Carrel

Tom Waits

"Rain Dogs"

Various Artists

"Tony Hawk's American Wasteland (Game Soundtrack)"

Various Artists

"Punk Tribute to the Clash"

Woody Guthrie

"This Land Is Your Land: The Asch Recordings, Vol. 1"

- Submitted by: Corky Carrel

Disclaimer

Disclaimer: amIright.com makes no claims of ownership of the original image.