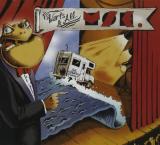 moe.
"Warts & All Vol. 6"
The jam band releases the 6th volume from their live recording vaults, this one taken from a show recorded in, of course, Lawrence, Kansas. Later pressings used only the frog and blackened the rest of the cover art. - Submitted by: John Book
Disclaimer
Disclaimer: amIright.com makes no claims of ownership of the original image.