The infamous surrealistic cover which was accidentally printed as the first cover for this album. Later printed with the trunk cover, copies were circulated with the trunk cover pasted on top of this one.
There are 6 parody covers of this album on this page.
Yesterday and Today Butcher Cover Album Cover Parodies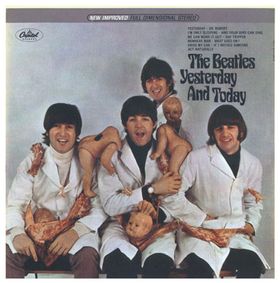 The Beatles
The original...
B.A.L.L.

"Bird"

The Flashcats

"Yesterday... and a Week From Friday"

Golden Throats

"Golden Throats 4: Celebrities Butcher the Beatles"

The Punkles

"The Punkles: 1998-2003"

The Squirrels

"Scrapin' for Hits"

Various Artists

"Butchering the Beatles: A Headbashing Tribute"

Disclaimer

Disclaimer: amIright.com makes no claims of ownership of the original image.