This photograph was first used on a single before it was used for their greatest hits collections.
There are 4 parody covers of this album on this page.
Please Please Me Album Cover Parodies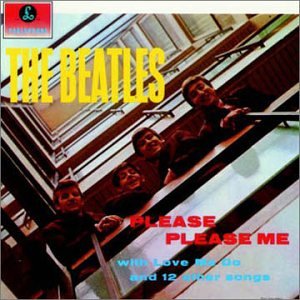 The Beatles
The original...
The Beatles

"The Beatles / 1967-1970 (The Blue Album)"

The Beatles themselves mimicked the cover of their first album in 1969, in a photo cession at the same location. It was meant for their cancelled album "Get Back," which would later be mostly sorted into "Let it Be" in 1970. However, one image from the cession would later be used in the compilation album often nicknamed "The Blue Album." - Submitted by: Quinton Kyle Hoover

The Beats

"Please Please Me"

Blur

"Secret Gig 95 and Lots More"

Bootleg album, not sure if the cover is supposed to be this blurry.

The Two Of Us

"Please Please Me: An Acoustic Tribute To The Beatles"

A song-by-song tribute to The Beatles' debut album, done acoustically. - Submitted by: John Book

Disclaimer

Disclaimer: amIright.com makes no claims of ownership of the original image.