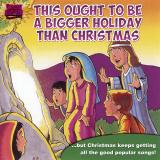 This is the most recent information about Cedarmont Kids that has been submitted to amIright. If we have more information about Cedarmont Kids, then we provide a link to the section where it appears (the actual page whenever possible).
:
"

Children, Go Where I Send Thee

"

One by the little Beanie Baby

One by the little bitty baby

Following the other star

Following yonder star

The holy was a clown

The holly bears the crown

"

It Came Upon the Midnight Clear

"

That glorious song of gold

That glorious song of old

There are additional misheard lyrics available.