There are 8 parody covers of this album on this page.
Die Mensch Maschine Album Cover Parodies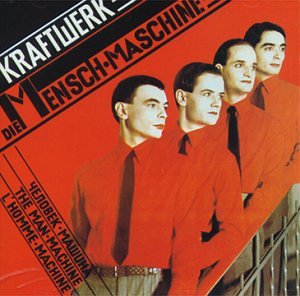 Kraftwerk
The original...
Art Blakey & The Jazz Messengers

"Live in Zurich 1958"

This is a back-parody, It was recorded 20 years before the "Man Machine" - Submitted by: Aleksander Denisiuk

Big Black

"He's A Whore"

Bill Bailey

"Das Hokey Kokey"

Kraftwerk

"Me Myself & I"

- Submitted by: Robbi

Kraftwerk

"Man Machinne"

Love the Album, and is part of the Video Game "Album Cover Parodies" play here http://gamejolt.com/games/puzzle/album-cover-parodies/43004/ - Submitted by: Munguía

Milemarker

"Sex Jams"

Various Artists

"F.E.A. version. dosmilcuatro"

""

http://www.strassenkreuzer.info/musik_cds.html

Disclaimer

Disclaimer: amIright.com makes no claims of ownership of the original image.