There are 6 parody covers of this album on this page.
Anatomy of a Murder Album Cover Parodies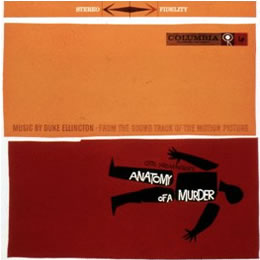 Duke Ellington
The original...
Elvis Costello Live With The Metropole Orkest

"My Flame Burns Blue"

Stan Ridgway

"Anatomy"

Tindersticks

"Working for the Man: The Island Years"

Tindersticks

"Donkeys 92-97"

Various Artists

"Horns Up-Dubbing With Horns"

An album by Tappa Zukie taking an updated look at classic ska and reggae music, featuring Sly Dunbar, Robbie Shakespeare, Bobby Ellis, Ansel Collins, Tommy Cooke, and many other legendary Jamaican musicians. - Submitted by: John Book

Various Artists

"Clockers (soundtrack)"

The soundtrack to the 1995 Spike Lee film, where the man on Ellington's album cover is modernized, sporting a baseball cap (hat). - Submitted by: John Book

Disclaimer

Disclaimer: amIright.com makes no claims of ownership of the original image.