This is the original soundtrack cover, not the newer CD which doesn't have the George Martin scores on it.
There are 4 parody covers of this album on this page.
Yellow Submarine Album Cover Parodies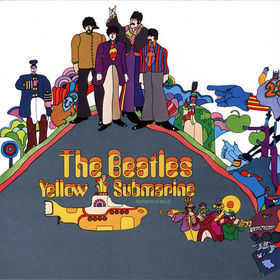 The Beatles
The original...
The Beatles

"Yellow Submarine"

Love the Album, and is part of the Video Game "Album Cover Parodies" play here http://gamejolt.com/games/puzzle/album-cover-parodies/43004/ - Submitted by: Munguía

Canadian Brass

"All You Need Is Love"

PPT

"Denglish: A State Of Mind"

Hip-hop group with members from Dallas, Texas and London, England - Submitted by: John Book

Tom Snyder

"The Tomorrow Show With Tom Snyder"

Subtitled "John, Paul, Tom & Ringo", this is a compilation DVD of interviews with John Lennon, Paul McCartney, and Ringo Starr by host Tom Snyder on "The Tomorrow Show", which aired on NBC-TV right after Johnny Carson's "The Tonight Show". - Submitted by: John Book

Disclaimer

Disclaimer: amIright.com makes no claims of ownership of the original image.