One of the most influential album covers of all time, there are far more parodies of this cover than any other album cover ever released.
It's so famous, there's a webcam set up (viewing the opposite direction of the album) to watch for tourists imitating the album cover. See if you can spot some below.
There are 295 parody covers of this album on this page.
Abbey Road Album Cover Parodies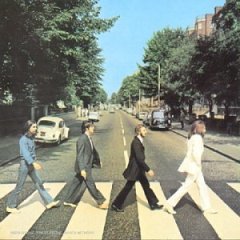 The Beatles
The original...
The 1966 Quartet

"Abbey Road Sonata"

- Submitted by: DmR of AtoZ

Abbey page

"Where's Ringo ?"

- Submitted by: DmR of AtoZ

Abbey Road blog

"Ghostbuster Road"

- Submitted by: DmR of AtoZ

Abbey Road On The River

"Abbey Road On The River"

- Submitted by: DmR of AtoZ

Abbey Road Teletubbies Rock !

"Tubbie Road"

- Submitted by: DmR of AtoZ

Adrian Chesterman

"Solid State Logic"

painting commissioned for advertisement - 1982.
Notice that John's side of the street is "futuristic", at least the cars are visibly so. - Submitted by: DmR of AtoZ

Alan Goldsher

"Paul Is Undead"

- Submitted by: DmR of AtoZ

Alan Goldsher

"Paul Is Undead"

- Submitted by: DmR of AtoZ

Al DI Meola

"All Your Life: A Tribute To The Beatles-Recorded at Abbey Road Studios, London"

Issued as both an LP and a CD as well as a Digital Download. A fitting tribute by the master Guitarist, Al Di Meola. - Submitted by: Dr. Eustaquio Kirby

Alejo Malia

"The Crusade of Abbey Road"

But who'd he get already ?! - Submitted by: DmR of AtoZ

Alex Ligertwood

"A Special Tribute To The Beatles"

- Submitted by: José Maurício

Al Hirschfeld Limited Editions and Originals

"Nina Road"

- Submitted by: DmR of AtoZ

American Dad

""Roger Passes The Bar" - episode"

- Submitted by: DmR of AtoZ

Anchorman 2

"New Perms on Manhattan Road"

- Submitted by: DmR of AtoZ

Anders Danman

"All You Need"

- Submitted by: DmR of AtoZ

Andrea Braido & Giorgio Cordini

"Acoustic Duo . . . Playing The Beatles"

- Submitted by: DmR of AtoZ

Anthony Tropeano, Zoological Director of Colchester Zoo

"Colchester Zoo's Stand Tall For Giraffes"

Colchester Zoo's Stand Tall For Giraffes - Submitted by: DmR of AtoZ

Anthony Tropeano

"Stand Tall For Giraffes"

Colchester Zoo's Stand Tall For Giraffes - Anthony Tropeano, Zoological Director of Colchester Zoo - Submitted by: DmR of AtoZ

Apo Hiking Society (Philippines

" Pop)"

Feet on the Ground - Submitted by: kaffee_ph

artist not found

"Teddy Bear Postcard"

- Submitted by: DmR of AtoZ

The artists of Creation Records

"Sgt. Pepper-style promo pic"

With Creation Records-founder Alan McGee in the middle. - Submitted by: Broken Record

artist unknown

"Aerial Abbey"

- Submitted by: DmR of AtoZ

ASIAN2

"Country Road"

CD from Japan of the band ASIAN2. It's called :Country Road". Found on eBay. - Submitted by: Dr. Eustaquio Kirby

AtMoSpHeRiC RuMiNaTiOnS

"Abbey Patch"

- Submitted by: DmR of AtoZ

Atm

"Abbey Road"

- Submitted by: José Maurício

AtoZ

"Fabsimiles"

- Submitted by: DmR of AtoZ

Atrium Ensemble

"Beatles: Abbey Road"

- Submitted by: DmR of AtoZ

Audiofon

"Helter Skelter & 18 Other Songs"

- Submitted by: DmR of AtoZ

Austin Mahone

"The Beachles"

- Submitted by: DmR of AtoZ

Aviv Or

"Geeky Road"

The art includes popular characters like Darth Vader, Buffy, and Sherlock, as well as familiar vehicles, props, and other pop culture references. - Submitted by: DmR of AtoZ

Aviv Or

"Geeky Road - original mock-up"

geek couple Danielle and Idan commissioned a geek-tacular piece of art from artist Aviv Or. This is the original layout suggestions. - Submitted by: DmR of AtoZ

BABIES & KIDS

"Songs from Beatles"

- Submitted by: José Maurício

BBC

"Doctor Who Series 9 Preview image"

A preview image released September 19, 2015, the day of the premiere of Doctor Who series 9. Notably, it seems to hide hints to Clara Oswald being dead. - Submitted by: Q Hoover

The Beagles

"Abbey Curb"

- Submitted by: DmR of AtoZ

The Beagles

"Abbey Dogs"

- Submitted by: DmR of AtoZ

Beanie

"The Beatles Beanie Abbey Road"

- Submitted by: José Maurício

Beany & Cecil

"Rag Mop"

- Submitted by: DmR of AtoZ

Beastie Boys

"Cookie Puss (Cooky puss) [EP] 4 Track Debut"

bad pic, thought it was the link to a better one. - Submitted by: tyrannosurusrex

Beatallica

"A Garage Dayz Nite"

- Submitted by: Joop Van Mil

Beatallica

"Abbey Load"

- Submitted by: DmR of AtoZ

The Beatle Barkers (the Woofers and Tweeters Ensemble)

"Live from the Pound: The Beatles - The Lost Tapes - A Parody"

Beatles on Panpipes

"Beatles on Panpipes"

Don't laugh, this is a very soothing album for early morning, or late night listening. - Submitted by: Corky Carrel

The Beatles Remixers Group

"You Can't Mash Christmas"

- Submitted by: DmR of AtoZ

The Beatles Remixers Group

"You Can't Mash That - Volume 18"

- Submitted by: DmR of AtoZ

Beatles Tribute

"Smooth Jazz Tribute to the Beatles"

- Submitted by: Corky Carrel

The Beatles Universe Features Page on FaceBook

"The Time Tunnel"

They'd be looking into their future at that point, no ? - Submitted by: DmR of AtoZ

The Beatles

"Abbey Simpsons Road"

This is from Simpsons Music From TV SHOW. - Submitted by: Bob the Bob

The Beatles

"Something \\ Come Together - French single sleeve"

- Submitted by: DmR of AtoZ

The Beatles

"single sleeve"

- Submitted by: DmR of AtoZ

Beatles

"Abbey Road"

Star Wars Abbey Road Shirt - Submitted by: Broken Record

The Beatles

"Abbey Road"

Love the Album, and i made this one for the Video Game "Album Cover Parodies" play here http://gamejolt.com/games/puzzle/album-cover-parodies/43004/ - Submitted by: Munguía

The Beatles

"Return To Abbey Road"

- Submitted by: José Maurício

BEATLES

"abbey road revisited-those were the days LP"

- Submitted by: José Maurício

The Beatles

"Abbey Road HMV Box Set"

- Submitted by: José Maurício

The Beats

"Take One"

- Submitted by: DmR of AtoZ

Benny Hill

"Best Of Benny Hill"

berk-olgun

"Abbey Road.."

- Submitted by: DmR of AtoZ

The Be Sharps ( The Simpsons )

"Bigger Then Jesus"

- Submitted by: DmR of AtoZ

BitKids

"BitKids"

One of many recent Brazilian finds. - Submitted by: DmR of AtoZ

Black Beatles

"Black Beatles [Explicit]"

- Submitted by: José Maurício

Blue Rodeo

"BK Forums"

They just shot the new cover of their CD remaking the abbey road cover with Mayor Peter Kelly and new Premier Rodney McDonald from here in Halifax, plus two of the members of the band. This was the day before Paul McCartney played here.
Even has a VW Beatle with the plate that says "LMW 28IF" - Submitted by: DmR of AtoZ

Blur

"Parklife ( video )"

- Submitted by: DmR of AtoZ

The Boat That Rocked

"Plank Road"

- Submitted by: DmR of AtoZ

Bob and Tom

"Shabbey Road"

As one of the performers on early Bob and Tom outputs, I thought you might like to have a larger image.

RobertRouse@comcast.net - Submitted by: Robert Rouse

Booker T & the MG's

"McLemore Avenue"

Booker T & the MG's tribute to Abbey Road - Submitted by: John Ozed

Brenda Russo

"Winnie Road"

- Submitted by: DmR of AtoZ

The BRG

"You Can't Mash That - Vol.8"

- Submitted by: DmR of AtoZ

Brian Southall Peter Vince Allan Rouse-Forward by Sir Paul McCartney. Preface by Sir George Martin.

"Abbey Road Beatles Tribute"

Abbey Road by Brian Southall Peter Vince Allan Rouse.
Beatles Tribute Abbey Road Book plus a Tribute Beatles music Double CD called "The Essentials Collection" and a special bookmark as well. Published by Omnibus Press in 2002. Forward by Sir Paul McCartney. Preface by Sir George Martin. - Submitted by: Dr. Eustaquio Kirby

Brighton UK

"Abbey Beach"

sand sculpture - Brighton UK - Submitted by: DmR of AtoZ

Brock Manson

"Abbey Tread"

- Submitted by: DmR of AtoZ

Bryan Edmiston

"Crayon Sculptures"

- Submitted by: DmR of AtoZ

Casey Veggies

"Live & Grow"

R&B LP Found on Import CDs (This is an actual LP) on eBay! - Submitted by: Dr. Eustaquio Kirby

Caterwaul Of Sound

"Stabby Road"

Old school UK punk.
Debut album available at http://www.caterwaulofsound.com/ - Submitted by: Ratman

Chantal

"Gold CD at Abbey Road by Chantal (2010-05-21)"

- Submitted by: José Maurício

Cheeze Whiz

"Mascot"

Not an album (a TV commercial to be exact), but it still is a parody of the original Beatles cover. - Submitted by: Sally Shine

Chibrás

"Beatles en Cinco Pianos"

The logical hybrid would be sauntering across Tom Hanks' keyboard-floor from "Big" - Submitted by: DmR of AtoZ

Children of God

"Abbey Bay"

- Submitted by: DmR of AtoZ

Chubb Rock

"The Mind"

City Of Walnut Ridge

"Beatles at The Ridge"

Beatles at The Ridge - City Of Walnut Ridge - Submitted by: DmR of AtoZ

The Clash

"This is Radio Clash"

This is Radio Clash - video frame - Submitted by: DmR of AtoZ

The Colbert Report

"Paul McCartney on The Colbert Report"

- Submitted by: DmR of AtoZ

collegehumor.com

"Ringo Wants to Sing More"

An unrealistic mocking of Ringo in this music video provides some cheap humor, but some good imagery too. - Submitted by: DmR of AtoZ

The Community of St. Saviour's Monastery

"Franciscan Road"

- Submitted by: DmR of AtoZ

The Craig Woolard Band

"MAIN STREET PEOPLE"

A tribute to North Myrtle Beach and MAIN STREET! - Submitted by: Joanie Dakai, designer

Cynthia Sousa Rodgers

"Fantastic Road"

- Submitted by: DmR of AtoZ

Dancing on Abbey Road

"Beatles tribute: Quebec, Canada"

Tribute albums are usually cheesy and unoriginal, but this one is really excellent. This is from Québec, Canada, and was released by the Indie label "Les Disques Diva" (distributed by Warner Brothers). This CD is out-of-print (OOP) and obscure. The covers sound much like the originals. You'd have to hear these medleys to know which classics are featured. Released in 1995. - Submitted by: Dr. Eustaquio Kirby

Dave Maclean and Montana Country

"Country Beatles"

- Submitted by: Anatoly

Dave Maclean and Montana Country

"Country Beatles"

- Submitted by: Anatoly

David Grahame

"Emitt Road"

Dead Like Me

"Life After Death"

- Submitted by: DmR of AtoZ

Dice

"The Beatles Were From Another Galaxy"

Dippydude

"Yellow Abbey Brick Road"

- Submitted by: D

Disney Beatles

"Disney Road"

- Submitted by: DmR of AtoZ

Disney Princesses

"Disney Princesses"

Apparently, to get to the ball you must first cross Abbey Road - Submitted by: DmR of AtoZ

Disney XD Fans

"I'm In The Band"

- Submitted by: DmR of AtoZ

Diversos

"Beatles 69 Vol.3 - Abbey Road Revisited"

- Submitted by: José Maurício

DmR of AtoZ - Led Zeppelin

"Abbey Runes"

- Submitted by: DmR of AtoZ

DmR of AtoZ

"You Can't Mash That - Volume #23"

- Submitted by: DmR of AtoZ

DmR of AtoZ

""I Want Winkies" "

You Can't Mash That - Volume #32 - Submitted by: DmR of AtoZ

DmR of AtoZ

""Turn Me On Several Dead Men" - You Can't Mash That - Vol. #32"

- Submitted by: DmR of AtoZ

The Doctor & Clara

"Dalek Road"

- Submitted by: DmR of AtoZ

Doctor Who

"1963: Fanfare For the Comman Man"

Big Finish audio set in the 60s parodying the cover of the famous 'Abbey Road'. - Submitted by: Quinton Kyle Hoover

Double Fantasy

"A New Abbey Road ~ A Tribute to The Beatles"

- Submitted by: DmR of AtoZ

Dynasouls

"Pinoy Vol. 2"

- Submitted by: DmR of AtoZ

Elton Melo

"The Dream That Never Ends"

- Submitted by: DmR of AtoZ

Ensemble Pro Brass

"Pro Brass at Abbey Road"

- Submitted by: José Maurício

Eureka

"Eureka Road - "E=MC" episode"

- Submitted by: DmR of AtoZ

The Fab Forces

"You Never Relinquish Your Holdings"

Female North Korean soldiers patrol along the banks of Yalu River - April 11, 2013.
"John" appears to be saying "Western imperialist journalist, no ! . . . is not Beatles . . No !" - Submitted by: DmR of AtoZ

The Fab Four

"Have yourself a FAB-ulous Little Christmas"

Fabulous Beatles Cover Band

"Fab Four Mega Hits - Tribute To The Beatles"

Beatles songs covered by a Beatles tribute band - Submitted by: John Book

FaceBook Fab Friends

"Why Did We Do It In The Road ?!"

I'd love to give full credit here, but try going back a day in your FaceBook Friends-feed !!
This was 8 days ago, and after 15 minutes I was only back 2 days !! - Submitted by: DmR of AtoZ

The Fest for Beatles Fans

"Fest West Road"

- Submitted by: DmR of AtoZ

Floyd Domino

"Baby Road"

Four Bitchin' Babes

"Gabby Road"

Francois Glorieux

"Francois Glorieux Plays The Beatles"

- Submitted by: DmR of AtoZ

The Friars Of The Community Of St. Saviour's Monastery

"Franciscan Road"

- Submitted by: Donna

Generic

"The Beatles Sunset Silhouette"

- Submitted by: DmR of AtoZ

George Benson

"The Other Side of Abbey Road"

- Submitted by: Mariano Pedrozo

Georgina Flood

"Piggyback Road"

- Submitted by: DmR of AtoZ